WELCOME TO BARBOUR COUNTY CHILD NUTRITION PROGRAM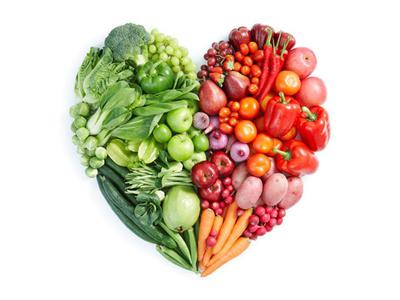 All Barbour County Schools serve breakfast and lunch each school day.
Barbour County Schools will operate as Community Eligible Provision schools for school year 2016-2017. Community Eligibility allows each student to receive one breakfast and one lunch each school day at no charge. We strongly encourage that all students eat both breakfast and lunch every day.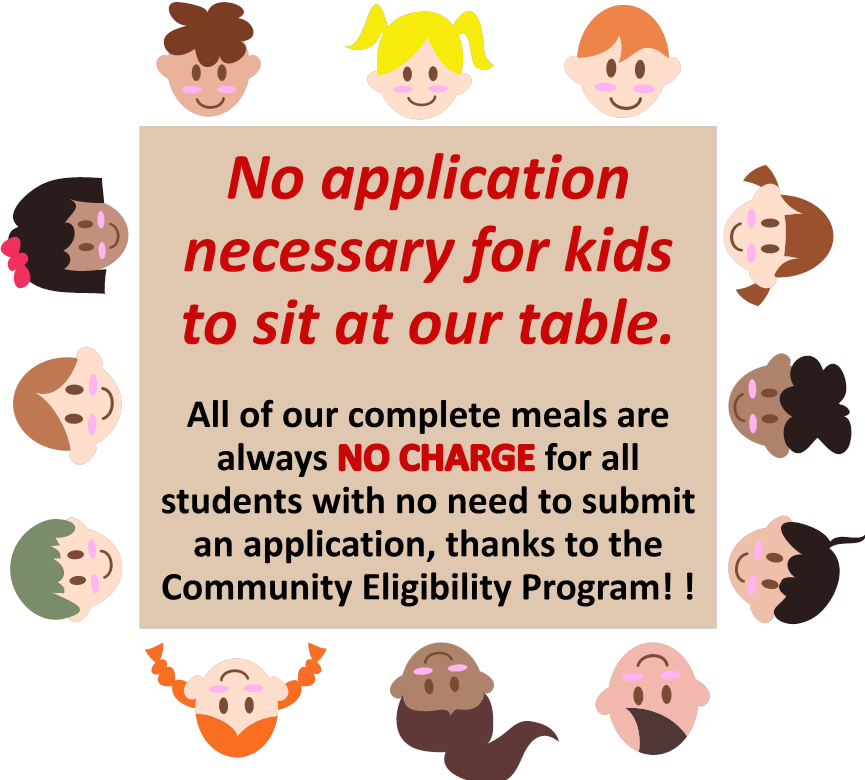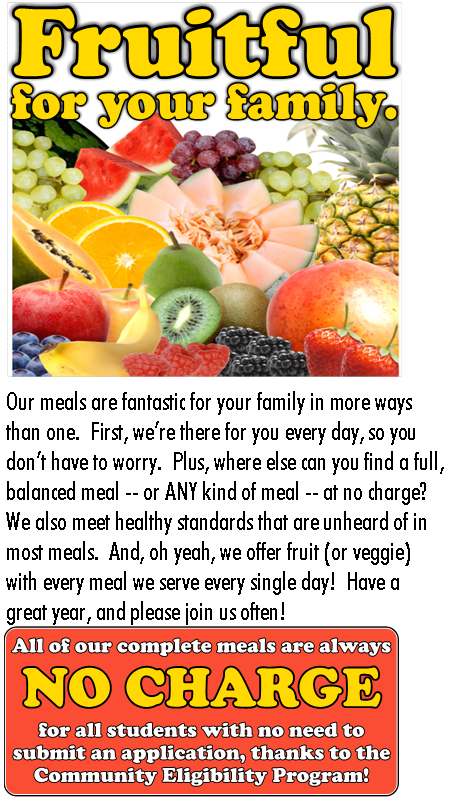 It is Barbour County Board of Education policy that "Offer Versus Serve" shall be implemented in all Barbour County School lunchrooms grades 3-12 for the school lunch program and grades PK–12 for the school breakfast program.
New federal guidelines for lunch require schools to offer five food components – 1 serving of each – milk, fruits, vegetables, grains, meat/meat alternate. Students may decline 2 of the 5 food components, but must select at least 3 meal components. One of the meal selections must be at least ½ cup of fruits or vegetables.
Federal guidelines for breakfast require schools to offer three food components - 1 serving of each - milk, fruits, and grains. Schools using "Offer Versus Serve" will offer at least four food components. Students must continue to select at least 3 food items and may decline a food item from any component at breakfast.
All students will be assigned a three or four digit identification number to be used in the cafeteria. Students need to learn this number as soon as possible. Students must go by the computer operator with their meal, tell the cashier their meal number or use the pin pad to enter the number and then be seated. Students at Barbour County Primary Schools will be allowed to use a finger scan to enter their cafeteria identification number. Students should not go back to the serving line after giving the cashier their number unless the cashier sends the student.
Meal prices for school year 2016-2017 will be as follows:

Lunch Breakfast
Full Price Student no charge no charge
Reduced Price Student no charge no charge
Employees $3.50 $2.00
Visitors (Dine-In) $4.00 $2.00
Visitors (Carry Out) $5.00 $3.00
Meals are for consumption during the regular school day. Except for meals provided for officially approved field trips, all food should be consumed in the cafeteria.
Barbour County Schools may make substitutions for individual children who are unable to consume a food item because of medical or other special dietary need. Substitutions will be made on a case-by-case basis and will be supported by a statement signed by a recognized medical authority. The school will provide a form upon request to the parent/guardian for the medical authority to complete. The completed diet prescription form must be returned to the school.
Meals will not be withheld or taken away from a student as a means of discipline.
Ala Carte Menu Prices
BOTTLED WATER: $0.50
DESSERT/BREAD: $1.00
ENTRÉE: $2.50
ICE: $0.25
JUICE OR MILK CARTON: $0.50
SMALL DESSERT/ COOKIE: $0.50
SMALL SALAD: $1.50
VEGITABLE/FRUIT: $1.00
High School Only:
FLAVORED WATER: $1.00
TEA: $1.00
WELLNESS POLICY INFORMATION
The Board of Education wellness policy has been developed to promote lifelong wellness practices. Part of this policy restricts foods and beverages of minimum nutritional value from being available on campus during the school day. This policy includes foods served at school parties. Parents should contact the school prior to sending any foods to be served to the class. This policy does not restrict what parents may provide for their own child.
Each school has a wellness committee. The public is invited to be a part of the committees. Please check each school's announcements to find out when wellness committee meetings will be held and how you can become a member.
Nondiscrimination Statement:
In accordance with Federal civil rights law and U.S. Department of Agriculture (USDA) civil rights regulations and policies, the USDA, its Agencies, offices, and employees, and institutions participating in or administering USDA programs are prohibited from discriminating based on race, color, national origin, religion, sex, gender identity (including gender expression), sexual orientation, disability, age, marital status, family/parental status, income derived from a public assistance program, political beliefs, or reprisal or retaliation for prior civil rights activity, in any program or activity conducted or funded by USDA (not all bases apply to all programs). Remedies and complaint filing deadlines vary by program or incident.
Persons with disabilities who require alternative means of communication for program information (e.g., Braille, large print, audiotape, American Sign Language, etc.) should contact the responsible Agency or USDA's TARGET Center at (202) 720-2600 (voice and TTY) or contact USDA through the Federal Relay Service at (800) 877-8339. Additionally, program information may be made available in languages other than English.
To file a program discrimination complaint, complete the USDA Program Discrimination Complaint Form, AD-3027, found online at How to File a Program Discrimination Complaint and at any USDA office or write a letter addressed to USDA and provide in the letter all of the information requested in the form. To request a copy of the complaint form, call (866) 632-9992. Submit your completed form or letter to USDA by: (1) mail: U.S. Department of Agriculture, Office of the Assistant Secretary for Civil Rights, 1400 Independence Avenue, SW, Washington, D.C. 20250-9410; (2) fax: (202) 690-7442; or (3) email:program.intake@usda.gov.
USDA is an equal opportunity provider, employer, and lender.
Revised: Nov. 9, 2015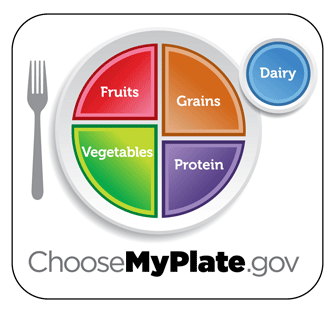 Summer Food Service Programs in Alabama
Follow this link to find Summer Food Service Programs across the state of Alabama: https://www.alsde.edu/sec/cnp/Pages/CNP.aspx?navtext=State%20and%20Program%20Contacts
This link will go to a website that displays a map. Click on a county in the map to see the participating programs in that county.
Then click a program title to see the list of that program's sponsors and sites for the selected county.

Smart Snack Calculator Link